Insolvency and Restructuring
Corporate crises frequently demand drastic, rapid and often also painful restructuring measures from a commercial and legal perspective. However, it is also about discovering new prospects and opportunities for your investment in Romania. Which measures can be taken from a legal perspective to avoid and/or overcome an insolvency situation? Which regulations need to be complied with in particular in crisis situations? We advise you on all crisis and insolvency-related company issues and develop sustainable financial reorganisation and recapitalisation strategies with you.

If you yourself have become the victim of insolvency proceedings, we will enforce your claims towards the insolvency administrator and organs of the debtor.

Naturally, we safeguard your interests as creditor of an insolvent debtor, have your claims regis-tered with the insolvency administrator and follow the proceedings on your behalf. If necessary, we enter into negotiations with the insolvency administrator in order to reach an economically feasible solution for you.
Focus areas of our range of consulting services are:
Filing and assertion of creditor claims
Acquisition of companies in crisis and out of insolvency
Consulting with regard to insolvency law
Consulting with cross-border insolvencies
Consulting of both organs and partners on the avoidance of liability risks
Downloads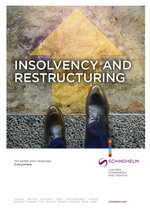 Folder Insolvency and Restructuring