Antitrust and State Aid
Cartel law as the law against restrictions on competition has rapidly gained in importance over the last few years at European and national level.

Breaches of cartel law provisions are frequently prosecuted with exorbitant fines that could assume proportions threatening companies' very survival. It is therefore all the more important to recognise cartel law risks with foresightedness and to avoid them with suitable preventive measures. In this process it should be noted that breaches of antitrust law are often punished at a European level.

Through our international network, we are able to guarantee relevant transnational support in this area and, not least through our connection to the office in Brussels, we can also offer comprehensive coverage with regard to antitrust law problems at a European level.

We naturally support our clients in investigative actions carried out by the relevant Romanian authorities.
The focus areas of our activity include, among others:
Summary proceedings and investigations by the European Commission and national competition authorities
Compliance/Audits
National and international merger control
State aid
Sales law
Drafting of contracts, in particular in the fields of cooperation, sales and licences and technology transfer
Downloads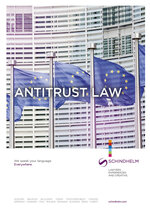 Folder Antitrust
Antitrust / Distribution
Antitrust and State Aid
Contract Law
Sales