Tax and Commercial Criminal Law
Today, more than ever, entrepreneurial activity harbours the risk of coming under the spotlight of the state prosecutor's office, tax fraud investigations teams or other investigative authorities, particularly abroad.

The possible damage to the company and company management is high. In this respect we support you during all stages of such proceedings and follow any investigative measures in order to protect you against hardship.

We are also able to coordinate with the colleagues within our network on a transnational basis, with regard to preliminary proceedings which occur frequently in the case of financial crimes.
Downloads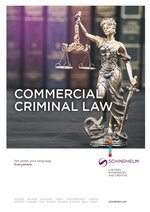 Folder Commercial Criminal Law
Criminal Tax Law / Compliance
Compliance
Tax and Commercial Criminal Law